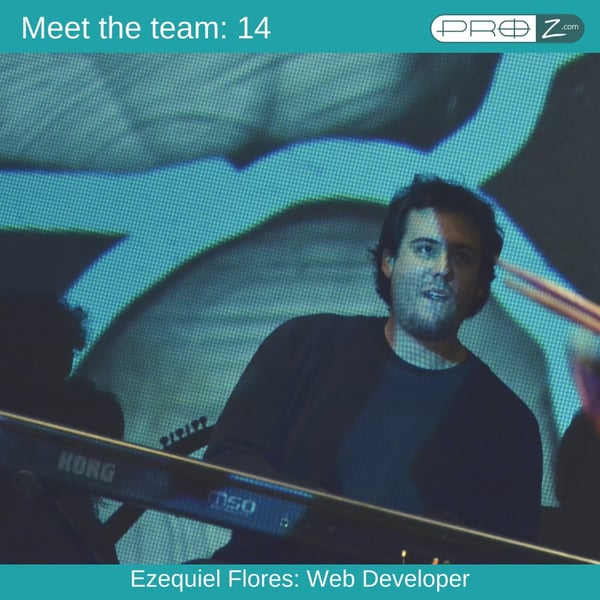 Over at the

Translators and Interpreters (ProZ.com) Facebook Group, there are plans for a series of weekly posts introducing you to the people behind
ProZ.com
. Some of them you may have come across, while others have remained in the shadows… until now! In the weeks and months ahead, we'll get to know all of them in turn. This is our 14th profile.


Ezequiel Flores studied systems engineering at
La Plata University
, but before graduating he started work at a local medical institution. But it was such a small place that he was constantly asked to do a variety of tasks. He felt his job lacked focus, so after three years he began to look around. However, it's not so easy to find work in a small Argentinian town, especially one dwarfed by the nearby capital, Buenos Aires, where all the major IT companies have premises.
But one day just over a year ago, when scrolling down his LinkedIn page, Ezequiel saw in an advert that
ProZ.com
were looking for a web developer right there in La Plata. Up till that point, he'd never even heard of ProZ, despite the fact that his ex-student network kept him informed about opportunities cropping up in local businesses. So he was doubly astonished – an international language-based company seeking someone with his exact profile right on his doorstep?
As a German and English speaker besides his native Spanish, Ezequiel thought he was in with a chance, and applied. Shortly afterwards he received an email telling him he'd been selected for the first test: to build a small web page with a glossary, in ten hours, Then came an interview which he was surprised to learn was entirely in English, but he sailed through it and was hired.
He didn't meet his competitors at the time, but from his later experience in recruiting for another developer to join him, Ezequiel learned that web developers sometimes display an aversion to instructions that's reminiscent of certain translators. A few filled out the English-language application form entirely in Spanish, while others simply said "I'm the best. Take me!" when asked to describe why they wanted the job, or to work for ProZ.com.
Most of Ezequiel's day is taken up with coding, improving various features on the site (including
virtual powwows
), fixing
bugs
, or developing new features such as "
Get Paid Early
". This involves staring all day at two code-filled screens side by side. ProZ.com is a huge site, with pages of various ages. The older pages can prove challenging, whereas newer features are easier to work on. So when to stop each day? It usually comes down to getting individual tasks done, or breaking huge jobs down into smaller chunks.
The most enjoyable part of the work is solving problems and enabling translators to do things they couldn't previously do on the site. Their feedback comes to him directly via the
support team
in the same office.
Ezequiel likes to leave his keyboard and screen far behind in his varied free time, with an array of hobbies from metalwork and woodwork to electronic projects. Not to mention seven years' experience of brewing his own beer. Most impressive of all, he's a guitarist and keyboard player in a progressive rock band, who have played at an international events in Montevideo and Rio de Janeiro. (See YouTube below).
Clearly not your typical computer geek!

PS Ezequiel left ProZ.com in 2022. We wish him well in his onward journey!