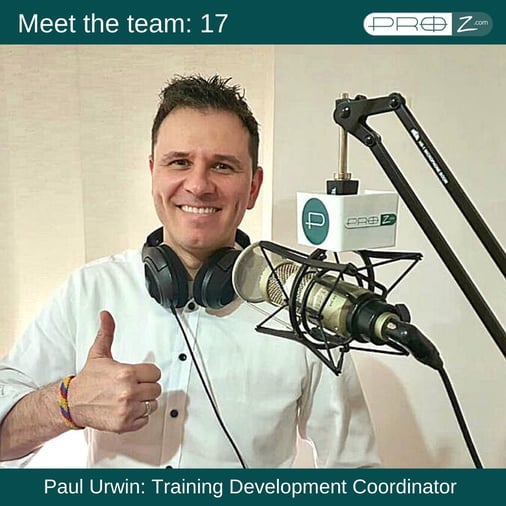 Over at the

Translators and Interpreters (ProZ.com) Facebook Group, there are plans for a series of weekly posts introducing you to the people behind
ProZ.com
. Some of them you may have come across, while others have remained in the shadows… until now! In the weeks and months ahead, we'll get to know all of them in turn. This is our 17th profile.


Paul Urwin has travelled a long way from his Master's degree in Aeronautical Engineering – an early sign of a high flyer? That was followed by a stint at the
Airport Research Centre in Aachen
, where he did his first paid translation at the age of 21, working on a group of German manuals. Then came a switch to finance in the City of London, a role that lasted several years.
But when he was sent on a finance-based posting to Colombia, opportunities in language began to lure him away from the world of pounds and pesos. He got into teaching, then ran a school, which grew into a company and over time added voiceover, interpreting and translating to its services.
Paul's relationship with
ProZ.com as a translator
dates back several years, ranging from
job searches
to
KudoZ
. But his closer involvement with the team began around 2016, when he first contacted
Drew McFadyen
about
International Translators Day
. He offered to to do a session as part of the annual three-day event, which takes place in late September, and for the next four years was a regular presence in sessions and on panels.
As time went on, Paul realised he believed increasingly in what ProZ was doing and became more interested in opportunities to contribute by creating content. That led to conversations about a more permanent role, which resulted in Paul finally joining the team in April this year.
His work revolves primarily around
designing courses for translators and interpreters and organising materials in tandem with other content creators
. That involves helping them format and edit their material for our audience, hosting it on the Learning Management System (LMS) platform Moodle, and setting up quizzes and interactions with participants.
As a tech enthusiast, he's getting to grips with the various software programmes, all of which take training beyond webinars. As a mechanism for training, webinars have done a great job up till now of delivering content, but they tend to be rather one-way, whereas today it's about tailored content, self-paced learning, and charting your own course through the "e-learning suite".
It all makes for a much more interactive "classroom", with a mix of input, theory, practice exercises and checking. With plenty of community feel of course, rather than an isolated group of listeners who just happen to be tuning in at the same time…
The aim? To create the
best training programmes out there
, drawing on the work of the best subject matter experts.
With 15 years of experience of managing his own teams as a translator and a language school owner under his belt, fitting into another team has not been a particular challenge, particularly as ProZ is an entrepreneurial company that's not particularly hierarchical, with a
staff of smart people from a variety of international backgrounds
.
Ever adaptable, Paul settled fairly easily into Colombian life, became fluent in Spanish and is now happily married to Claudia, with a four year-old daughter Daniela. Not bad for a self-proclaimed "fairly typical English guy" with a lifelong devotion to
Liverpool FC
…