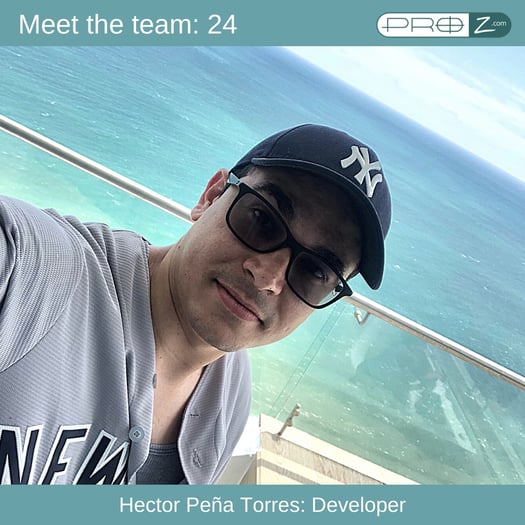 It was a tip-off from Evelio, a programmer friend already working at
ProZ.com
, that alerted Hector Peña Torres to the opening for a developer to join the team. The two had gone to the same secondary school in Cuba, and though Hector moved to Ecuador in 2016, they'd kept in touch.
Hector's first five years in
Ecuador
were spent working as a banking software programmer in Quito, which involved business trips to Peru, Nicaragua, and El Salvador. But when he heard about the ProZ.com job, he spotted an opportunity to do a job that was more focused on people than on figures, and one in which he could improve his English, having never worked in another language. He applied in January this year, and was promptly accepted.
Now he feels very comfortable in the role, in constant contact with colleagues in Syracuse and La Plata, and working primarily on programming issues and modernisation around
business
and
jobs
, and improving the UX. It's a more human-centred endeavour than his previous role, which focused more on precision around currencies, exchange rates and accounts.
Plus that language issue of course. Even though Hector had worked with colleagues from Boston and other places during his bank years, he never really had to use English that much. Now it's a part of his daily work life and his fluency has come on in leaps and bounds in the last five months. Perhaps it's no surprise: Hector describes himself as a perfectionist, Hector is meticulous and painstaking in his work.
With a three-year-old daughter, free time is more of a dream than a reality, but Hector and his Cuban wife do like to consult the sites of film critics and catch up on some quality movies when they get a couple of spare hours.
Quito
will remain the family's base for the foreseeable future, but the economic and political situation has become more difficult in recent years, so who knows where life may take them? Elsewhere in South America? Almost certainly not Europe, that's for sure, apart from for vacation…
Meanwhile, Hector's wider family remain back in Cuba. Leaving home in search of greater opportunities is always an adventure, but it's never easy, and the experience of exile can sometimes be bittersweet…